10 Bookstores Worth Traveling For
In today's digital world, some people have forgotten their love for physical books. The smell of the ink and the pages, how it feels to hold a heavy tome in their hands, and, most importantly, what it's like to go into a bookstore and browse for hours until they find the perfect book. Luckily, though, there are some truly amazing bookstores out there that can reignite your love for books and reading in an instant. Here are the ten most amazing bookstores in the world to merge your love of books and travel.
Shakespeare and Company, Paris, France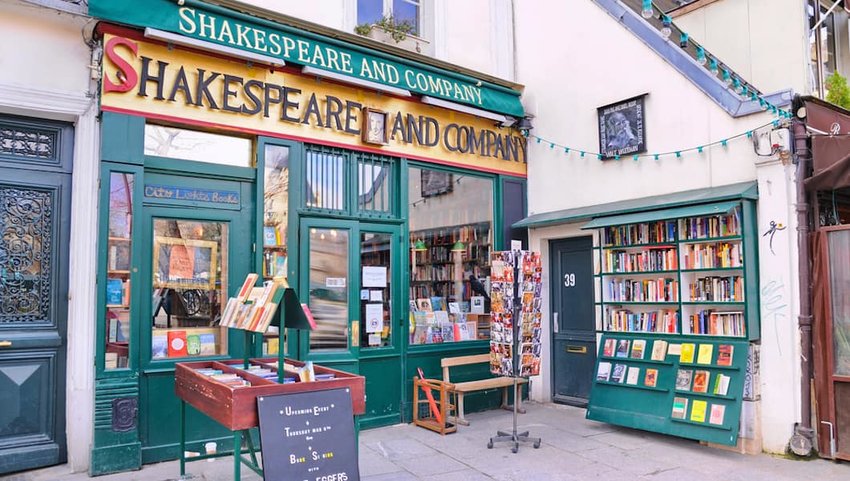 Shakespeare and Company is arguably the most famous independent bookstore in the world. Located at the edge of the river Seine in Paris, France. The weathered shelves and the old-fashioned sign out front conjure up memories of times long gone, times where authors like Allen Ginsberg and Henry Miller stopped by the store to hang out and to sell their newly written works. And that is exactly the thing that makes this bookstore amazing — it has been visited by generations of authors like Anaïs Nin, William Styron, Martin Amis, Zadie Smith and Dave Eggers, who we now hold in the highest of esteem, back when they were still starting out.
El Ateneo Grand Splendid, Buenos Aires, Argentina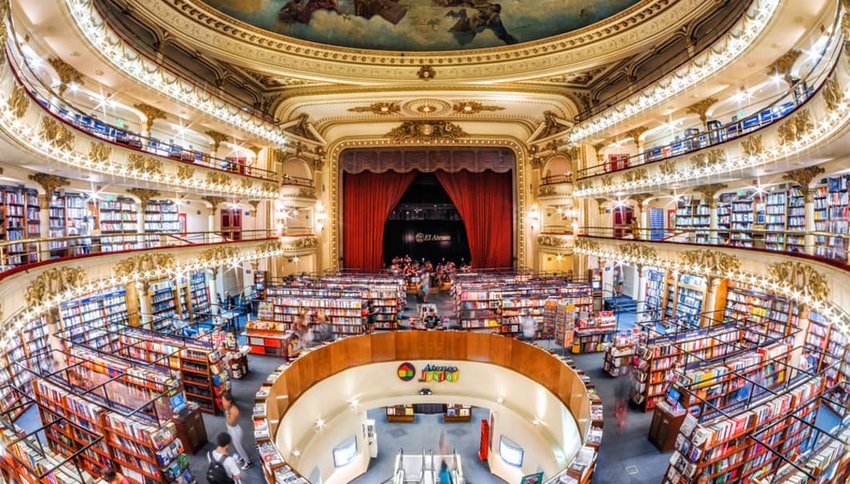 The "Splendid" in the name of El Ateneo Grand Splendid in Buenos Aires is putting it mildly. This incredible bookstore is one of the most fascinating places on Earth. It started its life as a theater, then became a cinema, before ultimately being filled with books to become a bookstore. The incredible frescoes on the ceiling, ornate stage curtains, high-class theater boxes and stage from 1919 are all still there in all their artistic glory, making this bookstore seem like something out of one of the storybooks it holds inside.
Atlantis Books, Santorini, Greece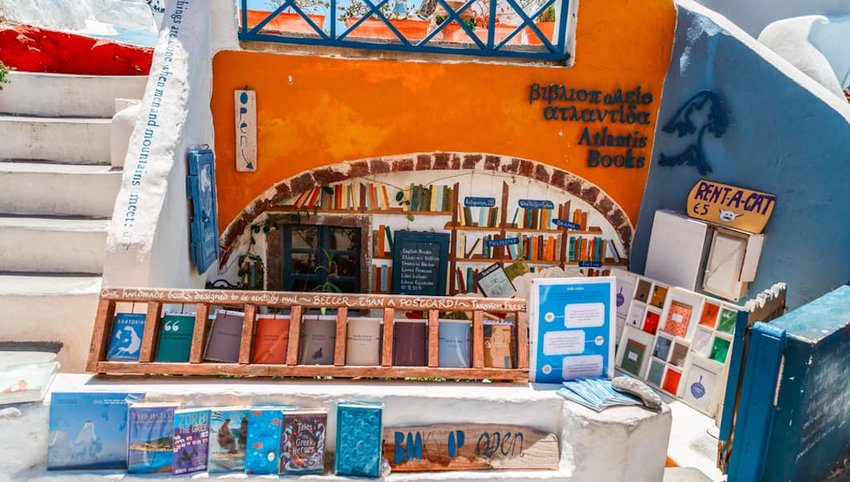 Atlantis Books in Santorini is so amazing that it recently topped the National Geographic's list of most interesting bookstores, according to GreeceIs.com. Referred to as a "Hobbit Hole," this small but jam-packed bookstore was created inside of a house - a house that someone still lives in. Classics (don't expect to find modern guilty pleasure books like 50 Shades of Grey at this bookstore) can be found on stacks on the floor, as if someone just set them down while they went to read another book. To make things even homier, there is also a dog and a cat that live in the bookstore to keep you company while you browse.
Selexyz Dominicanen, Maastricht, The Netherlands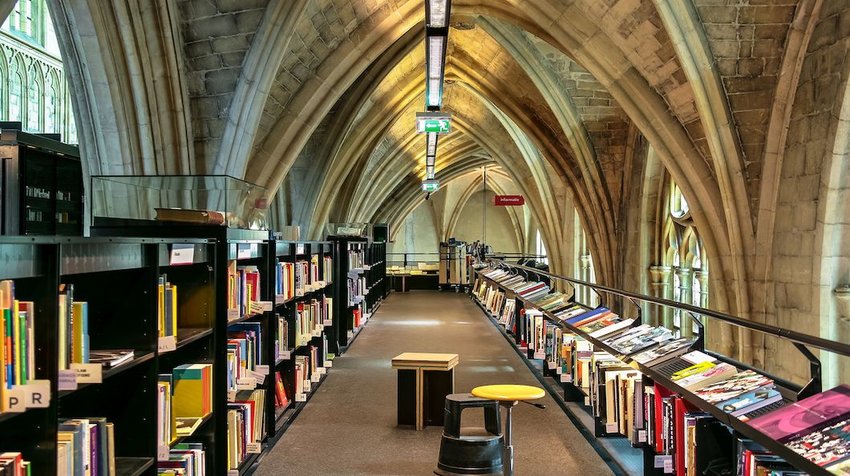 According to Atlas Obscura, Selexyz Dominicanen in The Netherlands is housed in a cathedral that is more than 700 years old. This tall, ornate stone church was once a place of worship, until Napoleon Bonaparte decided to use it as his own personal storage unit in 1794. When Napoleon's war was finished and he was long gone, he left all of his equipment and weapons in the church, where they remained until they were finally cleared out to make room for other people's storage and archives. Finally, in 2005, the place ware renovated and reimagined as a bookstore, and now people come from all over the world to see the beautiful, book-filled space.
Livraria Lello, Porto, Portugal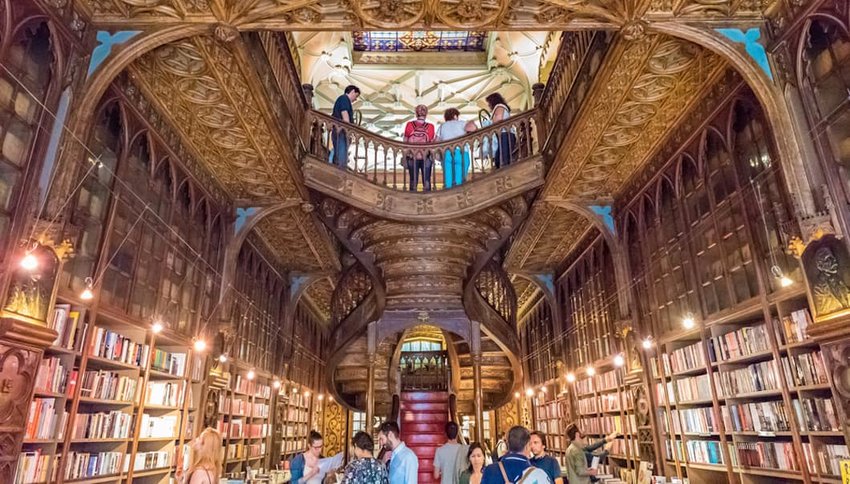 Livraria Lello near the heart of Porto, Portugal is another must-see bookstore. With stained glass windows, intricate decorations and columns featuring bronze artwork depicting the faces of multiple brilliant Portuguese writers, this bookstore is a work of art in and of itself. Harry Potter fans can also thank Livraria Lello for the decadent, gothic-style scenery of Hogwarts School of Witchcraft and Wizardry - rumor has it that this bookstore's amazing interior and spiraling staircases were the inspiration behind the setting of J.K. Rowling's most famous works.
Libreria Acqua Alta, Venice, Italy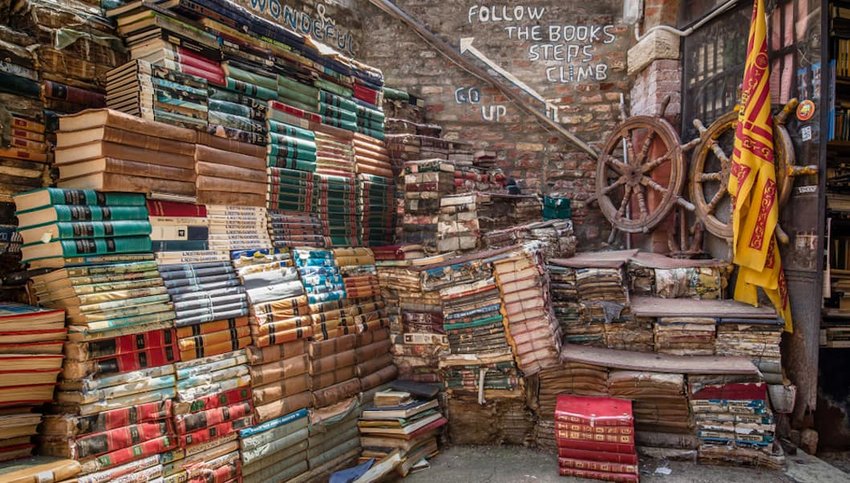 Venice is known for having canals instead of streets, and for its tendency to flood. That is why the owners of Libreria Acqua Alta ("High Water Bookstore") cleverly place their books in boats, gondolas, barrels and fish tanks. That way, the books will be safe if the waters ever get in - in fact, they will just float away! The bookstore also has stairs made from old encyclopedias and thousands of new and used books for tourists and locals to browse.
Cafebreria El Pendulo, Mexico City, Mexico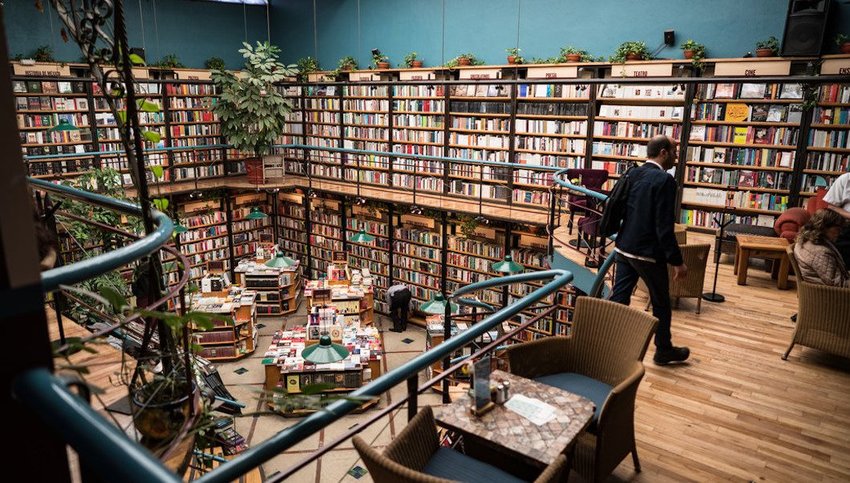 Cafebreria El Pendulo in Mexico City, Mexico is a lovely, peaceful place to while away an afternoon. According to SpottedByLocals.com, the high walls of this bookstore are filled with books from the floor to the ceiling, and there are natural and artificial plants everywhere to make you feel as if you were reading these books outside somewhere. To make things even better, there is also a cafeteria inside the bookstore, where you can get everything from fruit salad to traditional Mexican dishes. You can enjoy these foods while you sit on benches around the store and read to your heart's content, so there is really no reason for you to ever leave!
Zhongshuge Bookstore, Hangzhou, China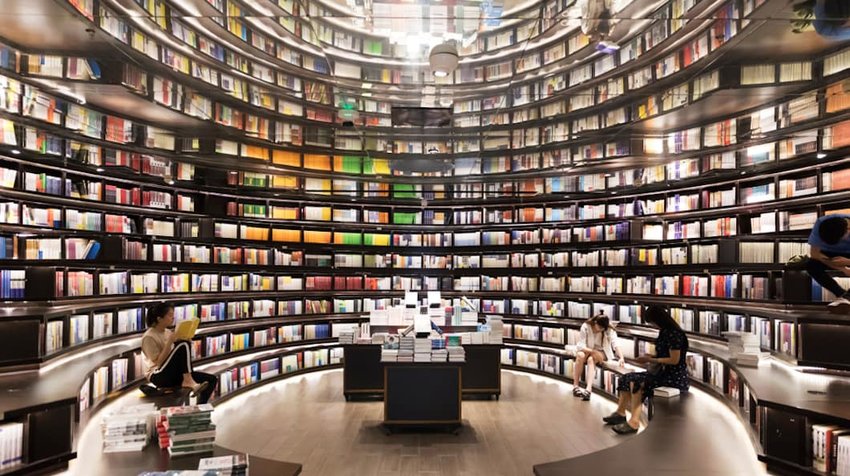 A trip to the Zhongshuge Bookstore in Hangzhou, China will make you feel as if you have stepped into the future, or perhaps onto some sort of spacecraft. Books are arranged around columns and behind transparent curtains, and mirrored ceilings and walls make you feel as if the books are endless, and that time has no meaning. In the words of one of the bookstore's founders, one of the sections is arranged like an abstract forest, where "we intend to acknowledge readers the awareness of knowledge as indispensable as oxygen from trees in our lives. These tree-like pillars stand tall, and emit the light of knowledge to indulge every soul [that] comes here."
Bosudong Book Alley, Busan, South Korea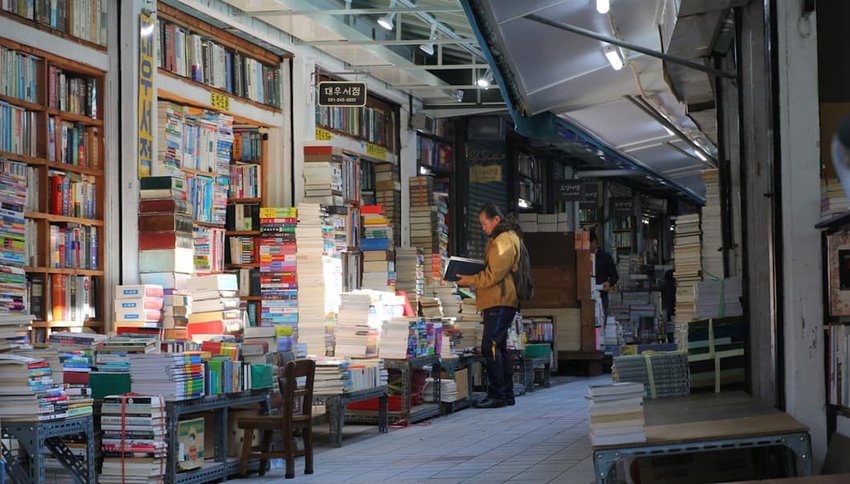 Forget exploring just one bookstore — this street in Busan is home to dozens. These stores are so overcrowded with reading material that their inventory spills out in piles into the street. Good luck trying to find something to read among the stacks of books. But if you love being surrounded by thick bound volumes, you'll love exploring this particular alley.
Honesty Bookshop, Hay-on-Wye, Wales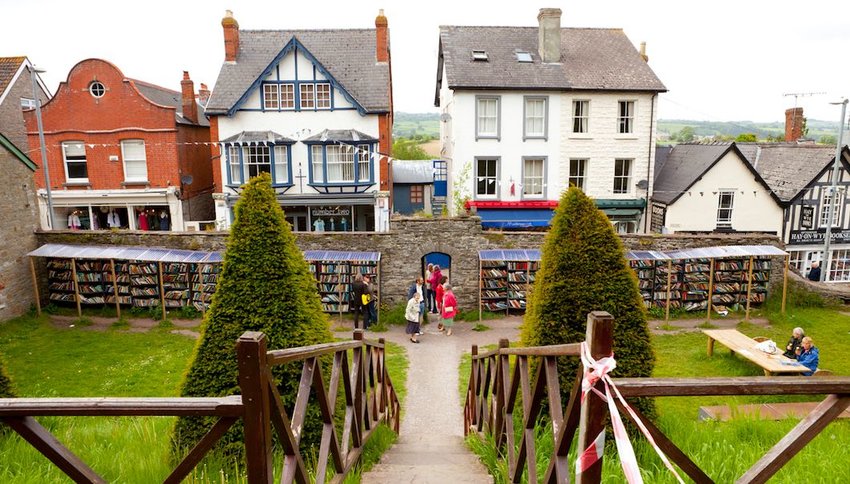 Last on our list is the Honesty Bookshop in Hay-on-Wye Wales. Hay-on-Wye itself is chock full of bookstores - dozens of them line every street, making it a real haven for book lovers. One of the best bookstores here, though, is the Honesty Bookshop. According to Daily Kos, this charming outdoor bookstore consists of a wall of books, from which you can choose any book you want on the honor system. Once you have chosen your book, you are asked to pay for it (hardbacks are just one pound, while paperbacks are half that) by depositing your money in a box in the wall. There is no one there to check whether you did it or not, as the Honesty Bookstore trusts that you will be (you guessed it) honest.